So, we've heard about Apple Silicon a few times now. But what really is it, and why is it so important? Most importantly, why will it save the Mac? First, we need to talk about what's wrong with the Mac lineup right now.
What is Apple Silicon?
Apple Silicon is Apple's new processor line for Macs. The processors will be based off Apple's current A-series chips, which have been present in iPhones and iPads for the last decade. Finally, these processors are coming to the Mac product line, announced at WWDC20.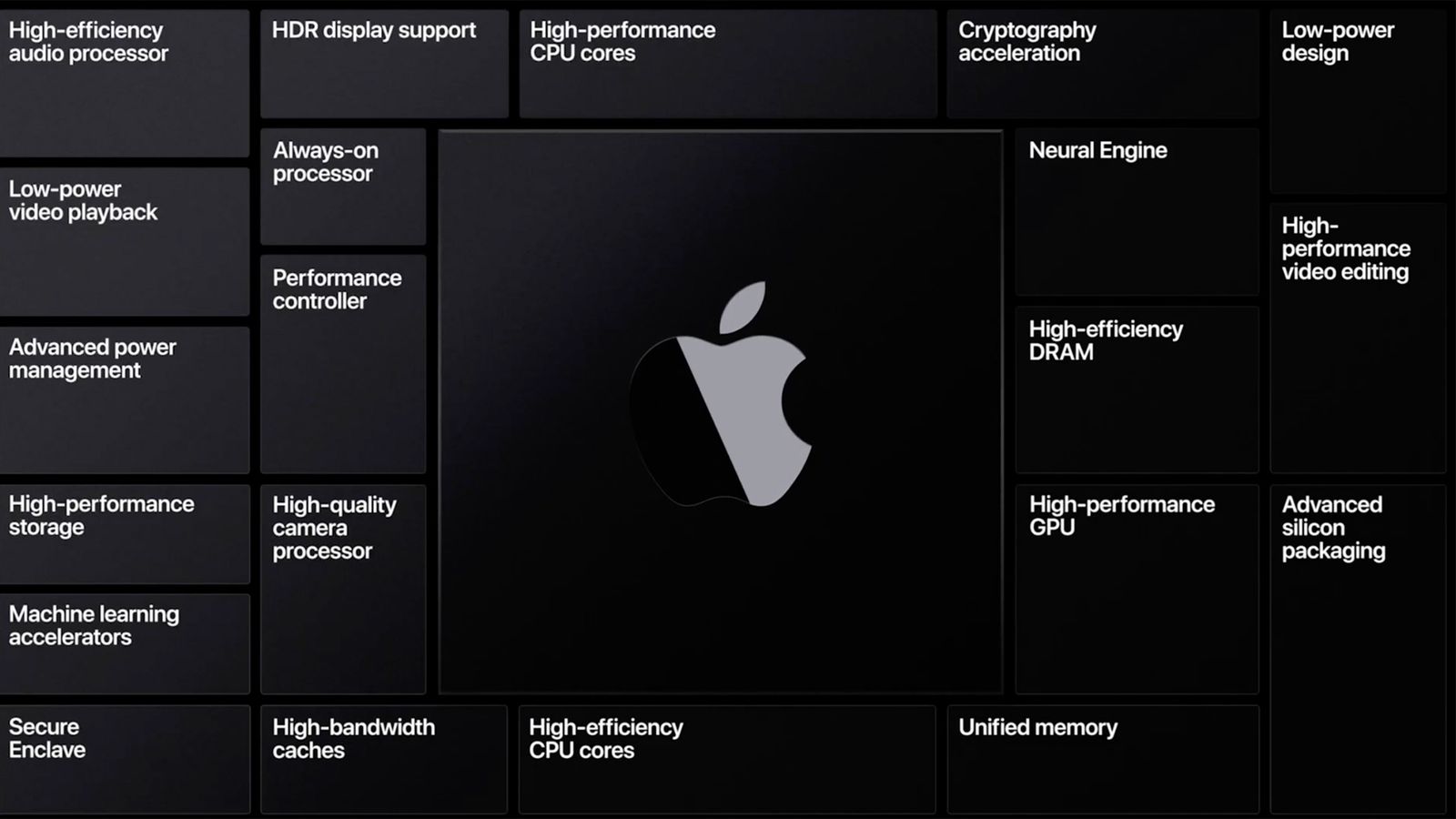 The image above shows just some of the features that Apple Silicon could bring to the Mac. One of the coolest features is going to be the Neural Engine. The Neural Engine is used for FaceID, and the inclusion of the Neural Engine in Apple Silicon could very well suggest that FaceID will be brought to the Mac, replacing TouchID on the current MacBooks.
What's so special about it?
So Apple Silicon is just another processor, right? Well yes, but it's more. If you've seen or used Apple's iPhones or iPads, especially the newest ones, you'll know that they're incredibly fast, and efficient. The iPad Pro (2020), can game at 120fps on a 120Hz screen, surprisingly well, and there is no active cooling in the iPad. The iPhone 12, which includes the A14 Bionic, can edit 10-bit footage very easily, at an amazing quality, while some desktop computers still struggle. If these two examples don't show you how powerful Apple's A-series chips are, you'll need to test one out yourself.
But what does this mean for a Mac? Apple can't just take an iPad chip, put it into a Mac and it'll work like magic, right? No. They aren't so powerful that they can replace Intel chips without any work at all. However, ARM Architecture is scaleable, meaning Apple can scale up the A14 Bionic, add more transistors, make the chip bigger, add a few more cores, and this new chip may actually replace the lowest end Intel chips. Disclaimer: This is all still speculation, again. Who knows, Apple might scale the A14 so much that it completely throws all mobile Intel chips out of the water!
Should you buy an Apple Silicon Mac?
Well, we'll have to wait until they're announced so we can be sure. Judging by the quality of A-series chips, there is definitely a high chance that new Apple Silicon Macs will have incredible performance. But there's also 3rd Party Support issues. Some 3rd Party apps may not immediately support Apple Silicon, and although Apple has made Rosetta 2 to translate Intel based apps to ARM based apps, this does reduce the efficiency of said apps.
If you're in the market for a new Mac now, you should definitely wait for another week unless you find an amazing deal now. Even after Apple announces Apple Silicon, they will still sell Intel based Macs alongside them, so you will still be able to buy them after the announcement.
Is my Intel based Mac doomed?
No. Absolutely not. Apple has specifically said that Apple plans to 'continue to support and release new versions of MacOS for Intel-based Macs for years to come.'. You should receive updates for your Intel based Mac for at least another couple of years, so you don't need to buy a new Mac immediately.
Are there any other benefits to Apple Silicon?
Yes. An amazing feature coming to Apple Silicon Macs only is that iOS apps will be able to natively run on Macs. This means that an app that only runs on iOS or iPadOS, such as Minecraft (I had no other example), can theoretically natively run on Apple Silicon based Macs, out of the box.
Apple will also have complete control over the release of their Macs. So far, Apple has only announced new Macs when there has been a new processor by Intel, meaning that the refresh cycle was incredibly unpredictable and irregular. With Apple Silicon, Apple will be able to update the Mac at a similar time each year, like how iPhones get new chips every year at the same time of year. This will be useful for the consumer too; if you're in the market for a new Mac, there won't be anymore guessing when Apple will update them, and if it's a good time to buy them or not.
What do you think about Apple Silicon? Would you rather have Apple Silicon, or Intel? Or would you prefer that Apple replaced Intel with AMD instead of their own processors? Let me know down in the comments below!